Case Study
CLIENT: Chao Chao takeaways limited
LOCATION: Nottingham, UK
CLASSIFICATION: Oriental fast food restaurant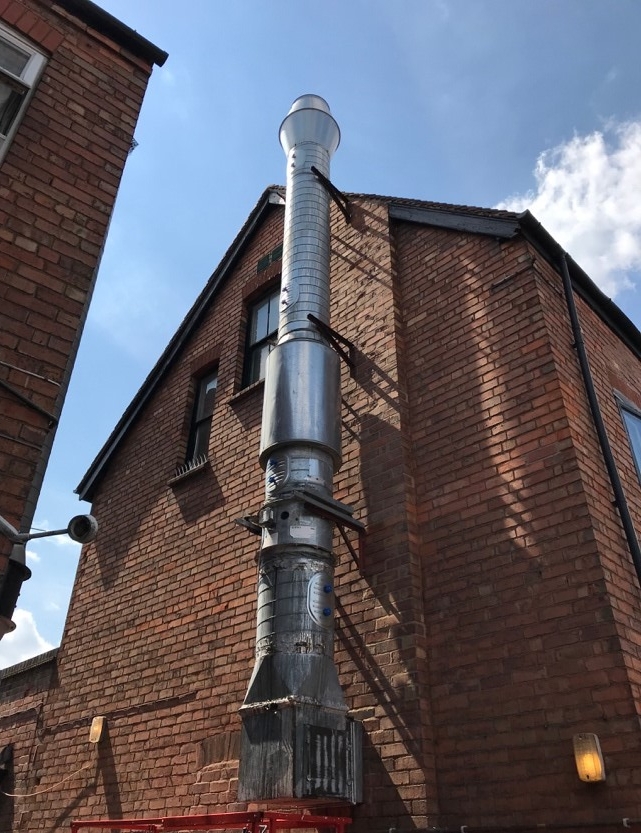 SCOPE OF WORKS:
Clean kitchen canopy and filters
Instillation of x 3 access panels to enable proper access to ductwork
Clean ductwork and fan to TR/19 standards
Remove heavy buildup of grease and fat from external flooring
Unblock the restaurant drains
SITE ISSUES:
No way of accessing the ductwork to enable proper cleaning without the instillation of access panels
Difficult access to vertical ductwork riser peaking at 12 meters high situated within a narrow ally way
Previous cleaning company had never cleaned the vertical ductwork above the fan meaning this system has never been complaint in accordance with TR/19 guidelines
Drains neglected and blocked with heavy build-up of fat and grease, every time ChaoChao emplpoyees attempted to clean the internal flooring puddles of water and a foul smell gathered at the internal drainage gulley's
OUR SOLUTION:
Brooklands has been contacted initially to provide a cost to clean the kitchen canopy, after our senior technician carried out a thorough site survey we had determined that the kitchen extract and ductwork had not never been cleaned properly and the building occupants were at risk of a potential fire hazard.
We informed Chao Chao takeaways that there premises were deemed to be unsafe and provided them with a detailed photographic report which also included measures taken from a WFTG 'wet film thickness gauge' sample test proving un-compliance with current legislation.
The previous company had only been cleaning from the kitchen canopy to the fan, we advised our client that 3 access panels would need to be installed to gain proper access so the system could be cleaned to TR/19 standards and that a mobile elevated work platform would be necessary to gain access to the top of the vertical riser.
DELIVERY:
We deployed our team of specialist cleaning technicians to clean the system from the kitchen to the top of the riser, we accessed this system using a 12 meter scissor lift and thoroughly cleaned the system from the inside out.
Following the cleaning of the extraction system we sent a second team to site in our industrial steam cleaning vehicle to first unblock the drains followed by degreasing and high pressure cleaning the external flooring areas to the restaurant.
The majority of this project was undertaken out of hours to avoid any inconvenience to the clients business and Brooklands have been instructed to carry out the kitchen extract and ductwork clean every 6 months to ensure the restaurant remains compliant.
For more information visit our kitchen deep cleaning service pages here and our duct work ventilation and kitchen extract cleaning page here .  Or call us on 0800 292 2325.