Case Study
Key facts
CLIENT: Mainstay residential, Lake view court
LOCATION: Leeds UK
CLASSIFICATION: Residential apartment block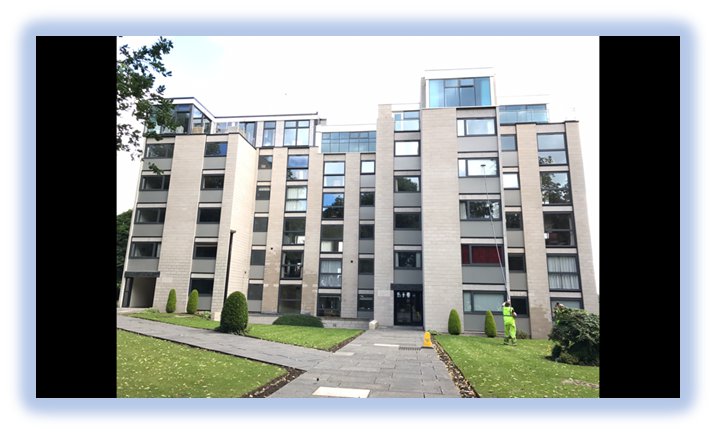 Summary
SCOPE OF WORKS:
Removal of paint to various blockwork walling to the rear of the apartment block and inside balcony areas
Removal of black/calcite build up to various areas of the building
High pressure steam cleaning of all external paved areas
Chemical and steam clean to the front stone walling to remove organic matter and carbon sulphation
Window cleaning
SITE ISSUES:
Lots of residents visiting the building throughout working hours
Areas of grass that needed protecting throughout the duration of works
Underground carpark which needed temporary protection to prevent water and paint debris entering the carpark and potentially damaging parked vehicles
OUR SOLUTION:
The building was beginning to show signs of neglection and our client had consulted a number of companies who could not deliver what they were trying to achieve.
Brooklands offered a holistic solution to bringing a new lease of life back into Lakeview court, there were areas of the building that required specialist equipment and knowledge of how to remove such markings where other contractors had attempted to provide a solution but not been able to deliver.
DELIVERY:
Our in-house team of specialist cleaning technicians first tackled the removal of paintwork to external walling and balcony areas before removing tough stains to the external of the building, having removed the paintwork from balcony areas we ensured that all areas and residents property had been protected before commencement and that any mess had been thoroughly cleaned up afterwards.
A large stonework wall with pillars at the front of the building had turned black over many years, Brooklands tackled this with a 4-stage clean using a combination of restoration chemicals to remove the carbon followed by a gentle DOFF clean which restored the wall to like new again, residents were most pleased as this really transformed the image of the building along with cleaning of all external paved areas.
Windows had been cleaned on the completion of our works to leave the building looking presentable.
DURATION: 6 days, July 2017