Case Study
Key facts
CLIENT: PDR construction ltd
LOCATION: Gainsborough UK
CLASSIFICATION: New build travel lodge hotel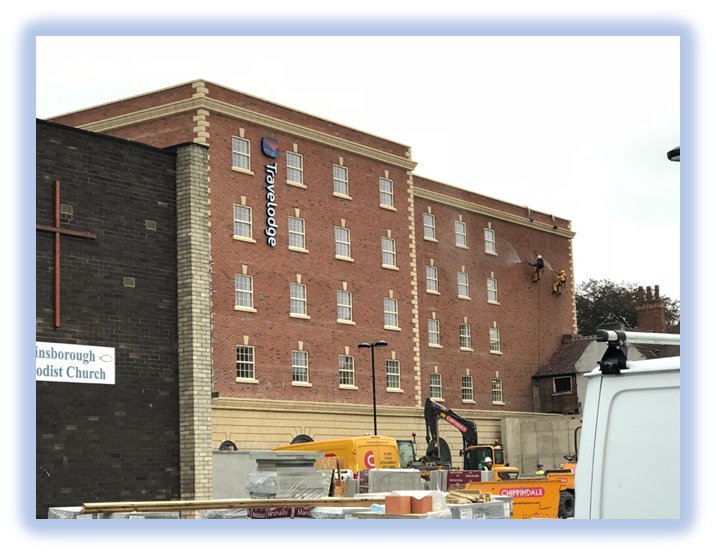 Summary
SCOPE OF WORKS:
Scrape and clean mortar stains from external brickwork
Remove sticker glue residue from external windows
Carry out a full internal builders clean
Remove mortar from glass windows and complete a sparkle clean
Remove hydraulic oil staining and tire marks from brand new paving
SITE ISSUES:
The building is situated on a main road with a narrow pavement in between the building and the road
High footfall area and busy road
No scaffolding
OUR SOLUTION: Our client contacted us initially for a quotation to carry out a brickwork clean to the hotel as the project was beginning to come to an end, on our site survey we had informed PDR construction that it would not be possible to use a MEWP for this project due to the building being on a busy main road and with scaffold already been taken down.
Brooklands offered a cost-effective solution to re-scaffolding and also took on the full builders and sparkle clean to ensure the client could have the building ready before hand over.
DELIVERY: We deployed our team of rope access technicians to clean the external brickwork, this was possible by using temporary rigging systems and by adapting a specialist system for protecting the protruding stonework corbeling from chafing of the ropes, by designing and utilizing this method it allowed our technicians to also access the windows externally to remove glue residue and effectively clean the glass afterwards as it was not possible to do so from inside.
The site team consisted of a machine operator on the ground, 2 banksman and a team of 4 for the builders and sparkle clean, communication between the groundman and rope access technicians was possible by utilizing using a walkie system.
We were also able to offer a lastminute solution to cleaning the carpark from rubber tire marks and hydraulic oil spillages from JCB disasters which had taken place towards the end of the project.
DURATION: 2 weeks – October 2018