Crime & Trauma Scene Cleaning Case Study
Key facts
CLIENT: Police 
LOCATION: London
SERVICES PROVIDED:  Crime & Trauma Scene Cleaning
CLASSIFICATION: Residential Flat 
Before and after cleaning and decontaminating of crime scene
Summary 
SCOPE OF WORKS: FORENSIC CRIME & TRAUMA SCENE CLEANING 
SITE ISSUES: EXPOSURE TO BLOOD, BODILY FLUIDS & POTENTIALLY INFECTIOUS MATERIALS
DATE: 24th December,2020 
OUR SOLUTION: Brooklands were called out by the police on Christmas Eve to clean up the aftermath of a violent crime, we quickly responded and attended the site within 4 hours of the call.
Once Law enforcement had finished investigating the crime scene, the site could be handed to us and clean up could commence.
The site had blood on the walls, ceiling, floors and doors, a traumatic for the resident and something not recommended for people to carry out themselves. Our background in understanding of eliminating dangerous biohazards allowed us to clean the site quickly, compassionatly and professionally.
The blood and body fluids found at a crime scene can carry bloodborne pathogens, including MRSA, HIV, hepatitis B and C, and clostridium difficile (C. diff). So our first job was to make sure the team are fully protected to remove the risk of infection.
Our personal protective equipment included disposable, non-porous gloves, chemical spill boots, filtered respirators, and a protective suit.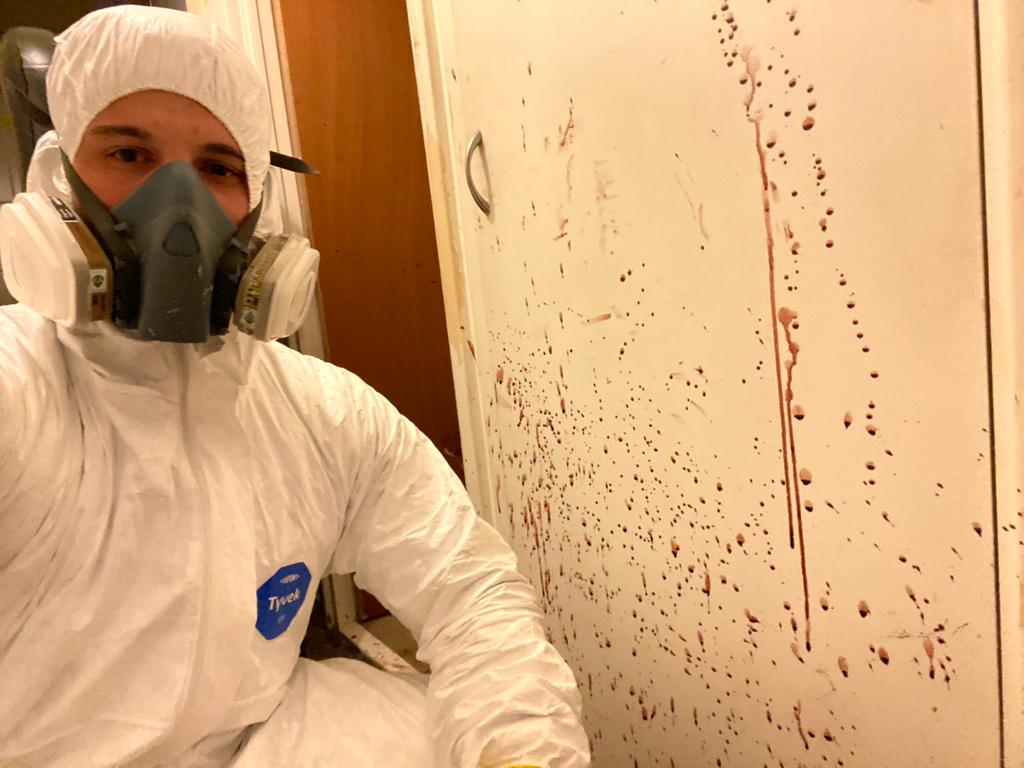 Our team wearing full Biohazard PPE to protect them at the scene
We then removed all the visible blood and by fluids putting all the waste into the correct biohazard disposal containers.  The clean up was followed with cleaning, disinfecting and deodorizing the surfaces.
Once all the waste is correctly disposed of the property was handed back to the resident with no evidence of blood or debris so they could return home knowing their house was clean and safe.
Images showing the property after Brooklands Crime Scene Cleaning
We offer a range of responsive emeregency deep cleaning services.
You can read more about these services by clicking the links below or call us on 0800 292 2325 for more information or to organise a free quotation.